🎁 GET 5% OFF from 50$ WITH PROMO CODE: LOVE

 FAST USPS Shipping From US 
(please allow delay due to COVID up to 7-14 day)
✔️ Local pickup available from: 1737 Coney Island Ave, Brooklyn, NY, 11230

Stay fit from home with DIGxFIT Doorway Pull Up and Chin Up Bar with a Pull-Up Assist Band


Develop and strengthen your shoulders, back, and arms with this high-grade training tool featuring multiple grip positions. 
✔️ BUILD UPPER BODY STRENGTH: This pull up bar for doorway use will tone and strengthen your back, arms, shoulders and abs muscles for the perfect upper body workout for men and women  

✔️ SAFE and SECURE: Heavy-duty chrome steel doorway pull up bar and door mounts provide great support and safety. Note: Always install and use the supplied screw-in door brackets (comes with 2 sets of heavy-duty and 1 set of medium-duty door mounts)

✔️ VERSATILE USES: Get fit and strong by using the door bar for many exercises including pull-ups, chin-ups, hanging leg raises, push-ups, dips, situps and crunches. It's truly a multi-function piece of at-home workout equipment

✔️ COMFORTABLE HAND-GRIPS: Non-slip extra-long foam grips for extra comfort to minimize hand fatigue or pain

✔️ USE IN DIFFERENT LOCATIONS: Multiple screw-in door mount kits give flexibility to move to different places or heights. Adjusts to fit standard doorways between 26 and 34 inches. It's perfect for your home, garage, gym or the office.
✔️  30lbs Pull-Up Assist Band make your workouts even more diverse.
Measurements:
9 x 16 x 41 inches
Fits door frames up to 38" wide
Length
Width

Height

in
cm
in
cm
in
cm
41
105
16
41
9
23
Verified Purchase Reviews:
I've been using this pull up bar regularly for months now. I love it! It stays in place and feels very stable. I've even tested out doing pull-ups while trying to make my body horizontal and it holds like a champ. I've also seen my pull up numbers increase so it's helping with the gains!
Easy to assemble. So easy to use over the door. I also attach bands to help with the pullups. 
This product seems to be the sturdiest pull-up bar of them all. And, it will fit in most doors. Very pleased.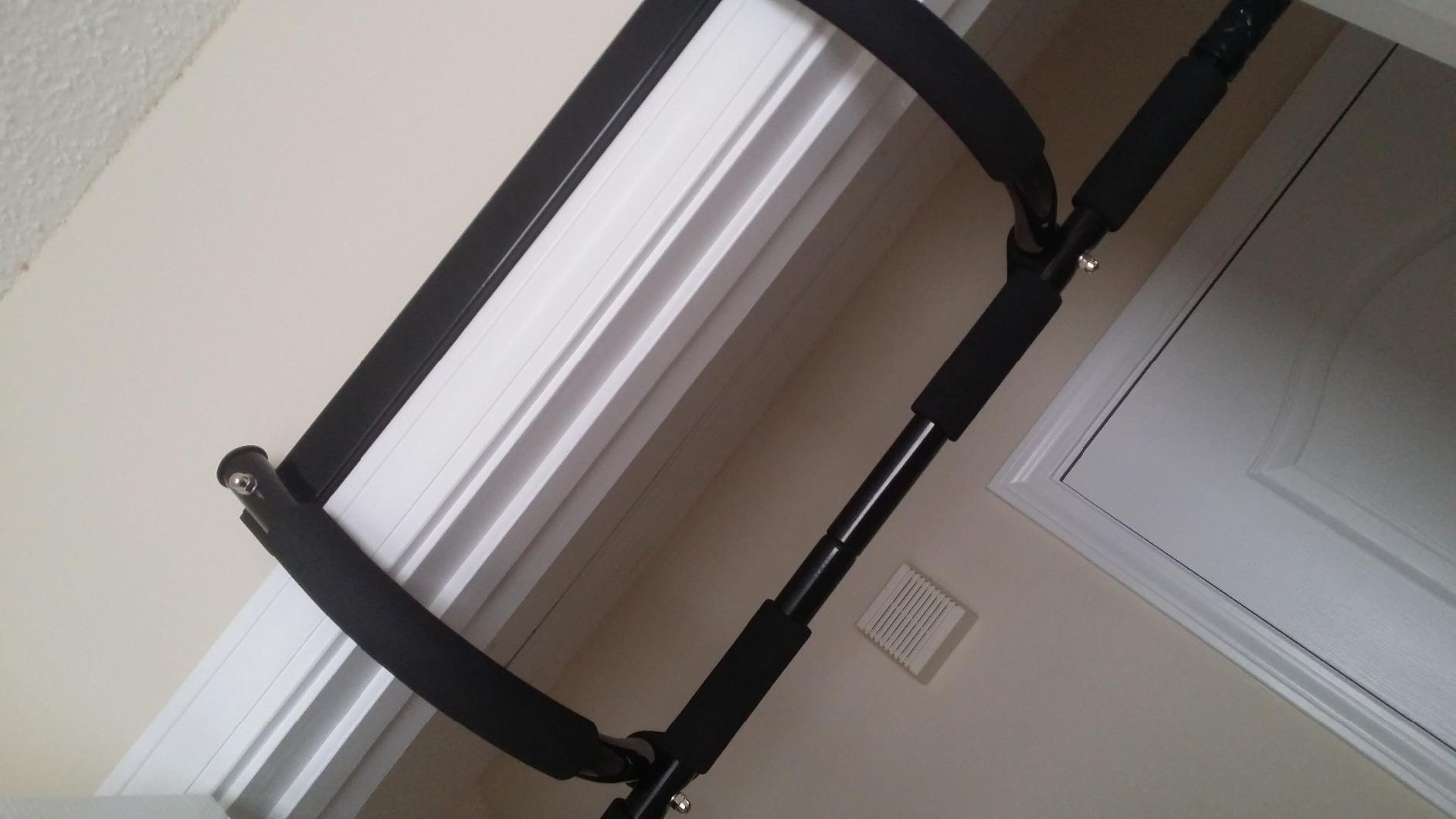 Amazing! And thanks for the gift!
The pull-up bar is just as good as hoped. It fits perfectly my room door, so it kinda serves me as a reminder to workout. Also, it's always nice to receive a gift from the seller. The band is durable, I'm using it to diversify my workouts. So thanks a lot! It was a very good deal. 
Easyyy! Super fun!
You have experienced it, right? The cheap fitness equipment thing? So many products that overpromise by 1000% and wind up as crap you can never use and clutter up your house and ruin your joy...hehehe
Well, this doesn't have that, surprisingly. I was able to put this up in <5 minutes with no screws and do pull ups (with >200 lbs weight)!!
Solid and affordable!
I hadn't seen another pull-up bar with a design like this one before and I was initially a little sceptical of how sturdy something foldable like this would be. Most pull up bars I've owned in the past were extremely bulky and difficult to store which generally meant I would either have to leave them up almost permanently in a doorway or I'd never use them. I have to stay after about a week of using this I'm convinced. It feels incredibly solid and I trust it!
Perfect for my house!
I have been through two previous pull-up bars. This product seems to be the sturdiest pull-up bar of them all. And, it will fit in most doors. I placed this pull-up bar in a door at the end of a hallway in which there was a space of about four inches to the walls on either side of the door - a perfect fit with some room to spare!
Good value for money
I do work out with my father and so far it has worked very well! and good for the price. I weight 170 lbs and it supports me just fine with no bending, squeaks, or sounds of stress on the metal. Highly recommend.
Smart design
Very solid quality. Bought it for daily casual use. Saved my trip to gym. Smart design of the architecture which won't cause damage to the door frame. Highly recommend.