🎁 GET 5% OFF from 50$ WITH PROMO CODE: LOVE

 FAST USPS Shipping From US 
(please allow delay due to COVID up to 3-5 day)
✔️ Local pickup available from: 1737 Coney Island Ave, Brooklyn, NY, 11230

Stay fit from home with DIGxFIT Doorway Pull Up and Chin Up Bar with a Pull-Up Assist Band


Develop and strengthen your shoulders, back, and arms with this high-grade training tool featuring multiple grip positions. 
✔️ BUILD UPPER BODY STRENGTH: This pull up bar for doorway use will tone and strengthen your back, arms, shoulders and abs muscles for the perfect upper body workout for men and women  

✔️ SAFE and SECURE: Heavy-duty chrome steel doorway pull up bar and door mounts provide great support and safety.

✔️ VERSATILE USES: Get fit and strong by using the door bar for many exercises including pull-ups, chin-ups, hanging leg raises, push-ups, dips, situps and crunches. It's truly a multi-function piece of at-home workout equipment

✔️ COMFORTABLE HAND-GRIPS: Non-slip extra-long foam grips for extra comfort to minimize hand fatigue or pain

✔️ USE IN DIFFERENT LOCATIONS: Multiple screw-in door mount kits give flexibility to move to different places or heights. Adjusts to fit standard doorways between 26 and 34 inches. It's perfect for your home, garage, gym or the office.
✔️ Specification:
Heavy Duty: Up to 200 lbs
Adjustable Length:Small (24-36 inches) & Large (33 - 85 inches)
Easy to Install: No drilling required
Ergonomic Design: Anti-skid devices, screw-in door pads
Instant Results: Get Results In Just A Few Days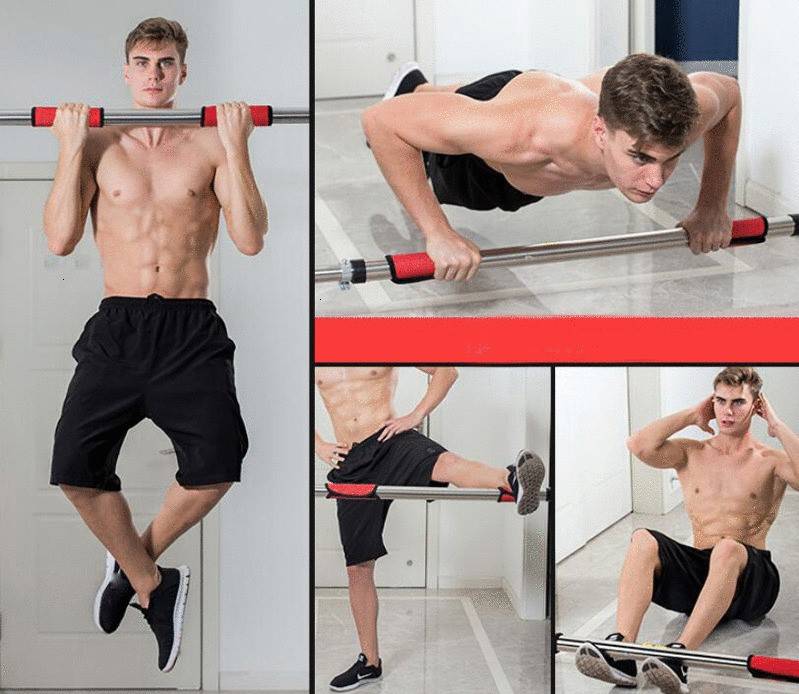 NICE!
I liked this a lot. It does the job. Although it will not destroy the door. But I still took the old T-shirt and wrapped it on the side. More at ease.
Smart design
Very solid quality. Bought it for daily casual use. Saved my trip to gym. Smart design of the architecture which won't cause damage to the door frame. Highly recommend.
Good value for money
I do work out with my father and so far it has worked very well! and good for the price. I weight 170 lbs and it supports me just fine with no bending, squeaks, or sounds of stress on the metal. Highly recommend.